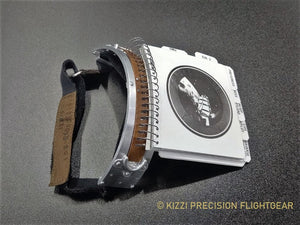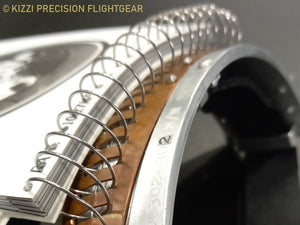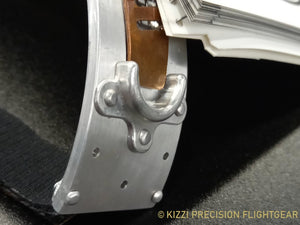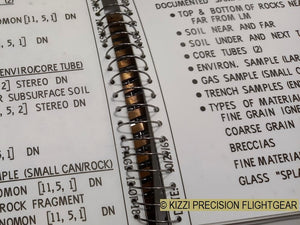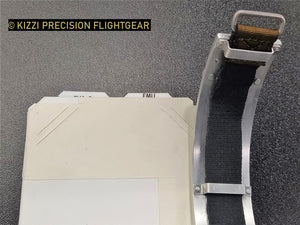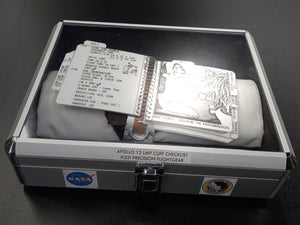 P/N SEB33100302-302
Apollo 12 LMP cuff checklist
Introducing a perfect replica of the Apollo 12 Lunar Module Pilot (LMP) cuff checklist as worn by Astronaut Al Bean. This cuff checklist is the original incarnation of lunar surface cuff checklists used for Apollo (Apollo 11 had memos printed on the spacesuit glove), the design continued to the Space Shuttle and beyond.
Some characteristics unique to the Apollo 12 cuff checklist:
Includes an additional pair of back pages for any last minute geology notes to be added. 
Faithfully reproduction of NASA workshop fabrication mistakes of holes in the wrong place and (corrected )sub-part number.
Cuff checklist is completed with the first two pages, found to be missing from Apollo 12 LMP Astronaut Al Bean's cuff checklist.
Experts who have curated flown Apollo cuff checklists sold at auction have confirmed the pages feel like the genuine Dupont Chronopaque film used by NASA. There is no glue, paint or plastic components used, it is made 100% authentically with all metal construction and rivets. The unique working design with a spiral binding screwed onto a curved arm brace prevents pages from turning accidentally. The checklist is supplied with an equally authentic 19" wristband using 1970's Apollo-era vintage Velcro hook and loop fastener to attach to the cuff of a space suit.
The cuff checklist comes with an
 aluminium clear topped display case for storage, wide enough to display opened pages.