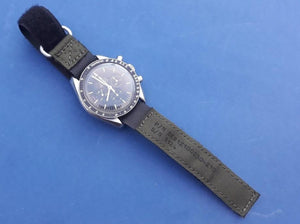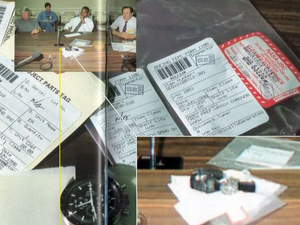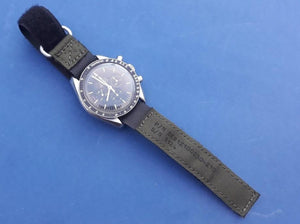 P/N SEB12100030-210
Short NASA watchband (Space Shuttle issue)
This is the last version of the official NASA supplied watchbands, the type that was supplied as a discretionary "crew preference item" for Space Shuttle missions. 
These NASA Velcro watchbands are the classic pattern widely copied but never matched for comfort and authenticity as seen here. Using the same materials available at the time, and meticulously following the SEB12100030 design specification, this watch band will make any watch look ready for flight! 
Width for 20 mm lugs is made from 3/4" soft and comfortable vintage loop tape of the type used in the 1980s (pictured). In other words, the U.S. standard tape width of 3/4" (19.1 mm) was used by NASA for the Swiss made Omega Speedmaster with a lug width of 20 mm.  Oversized and trimmed tapes available for watches with 21 mm and 18 mm lugs respectively (see options for availability).  Also see our latest mil-spec watchband which measures 19.6 mm width.
Mil-spec (Mil-T-5038) binding tape in current shade of Olive Drab, known as OD#7.
All stitching with webbing strength mil-spec (V-T-295) nylon thread.
Steel ring made from mil-spec (Mil-S-7720) aircraft grade 302 alloy stainless steel. This is the the hardest austenitic steels made and difficult to bend to the correct shape at this diameter.
Delicately but clearly marked with P/N and S/N as per NASA-JSC marking specification for all space flown items inside the crew compartment.
Length is 11.5 inches as per P/N SEB12100030-210, will fit wrists from 6 to 9 inches.