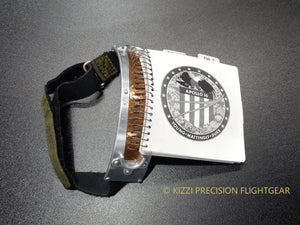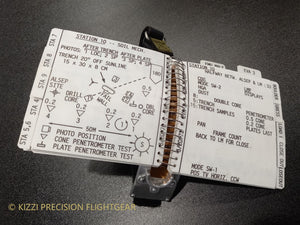 P/N SEB33100302-302
Apollo 16 CDR EVA-2 & 3 Cuff Checklist
An outstanding replica Apollo 16 Cuff Checklist as worn by Astronaut John Young for EVA-2 3 from April 27th 1972. The original cuff checklist resides at the National Air and Space Museum. The lunar objectives for the second and third Apollo EVAs were:
To inspect, survey, and sample materials and surface features at a selected landing site in the Descartes region. The Descartes landing site is in a highlands region of the moon's southeast quadrant, characterized by hilly, grooved, furrowed terrain. It was selected as an outstanding location for sampling two volcanic constructional units of the highlands – the Cayley formation and the Kant Plateau.
Evaluation of the lunar rover through a "Grand Prix" exercise consisting of S-turns,  hairpin turns and hard stops. 
EVA-2 began with drive south to Stone Mountain, where surface and core samples were collected at two stations in the area of Cinco Craters, along with a trench sample, penetrometer measurements and photography. Traverse continued west, then north with stops at five additional stations for similar work. One station was deleted from the EVA plan because of time factors. Lunar portable magnetometer, or LPM, measurements were taken near Cinco. Crew returned to lunar module and ended second EVA after seven hours, 23 minutes and 6.9 miles on the rover.

EVA-3 had four stops deleted from EVA-3 by Mission Control because of time constraints in meeting ascent schedule. Astronauts drove north to North Ray Crater where "House Rock," inside the crater rim, was sampled. Returning south, the crew stopped at "Shadow Rock" for additional sampling, photography and LPM measurement. Final stop near the LM added samples and core tubes to the collection. Last LPM readings were taken at the rover parking site along with final rock samples.
The CDR EVA-2 & 3 Apollo 16 Cuff Checklist has a massive 31 plastic leaves (61 printed pages) making it one of the most extensive of the Apollo Cuff Checklists. Details on opposing pages for the 17 stations are organized with a diagram of the station experiment layout on the open left hand page and a summary of activities on the open right hand page. Also includes pages for the Lunar Rover Vehicle Grand Prix test and malfunction emergency procedures. 

The cuff checklist comes with an aluminium clear topped display case for storage, wide enough to display opened pages.