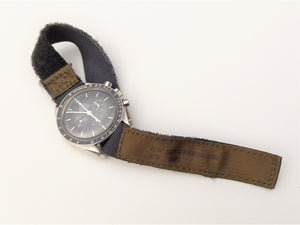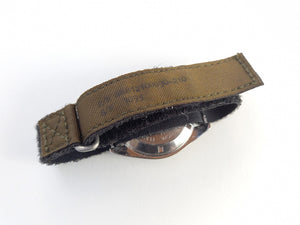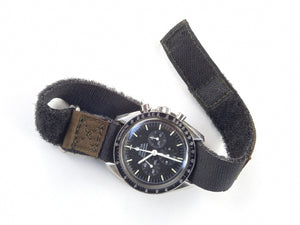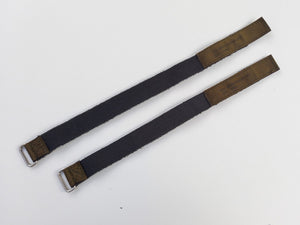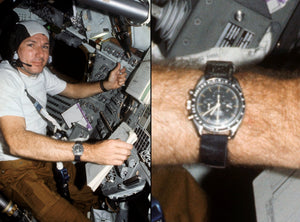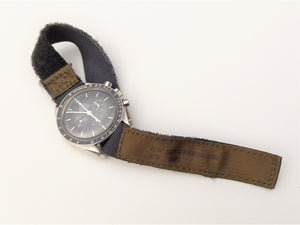 P/N SEB12100030-209
Short NASA watchband (Apollo issue)
These "Apollo issue" watchbands are made from the same materials and made exactly the same way as those in the 1970's on Apollo and Skylab missions. They look and feel exactly like auction and museum artefacts. These watchbands are not made to same quality anywhere else due to the authentic vintage materials and colors matched to actual space missions.
 What makes these watchbands exclusively unique?
The Nylon mil-spec (Mil-F-21840) Velcro loop tape sourced from 1970's U.S. Defense Supply Agency stock. Being one of the first types of hook and loop tape, the Olive Drab binding tape is actually essential for providing stitched fabric reinforcement. But as this dates from the Apollo era it's the ultimate in authenticity short of being furnished by NASA Flight Crew Integration Division (FCID). For a close-up, please see Michael Collin's Apollo 11 (long) watchband.
All stitching with webbing strength mil-spec (V-T-295) nylon thread.
Steel ring made from mil-spec (Mil-S-7720) aircraft grade 302 alloy stainless steel. This is the the hardest austenitic steels made and difficult to bend it the correct shape at this diameter.
Width of  Velcro loop tape is cut to 19-20 mm, exceeding tolerances of the NASA specification in design drawing SEB12100030. More information about compliance with the NASA watchband blueprint SEB12100030 here.
There are two lengths for sale.
P/N SEB12100030-209  (9½" length) The official short NASA watchbands used for Apollos 13 and 14. Fits wrists up to 7

½

" ( < 20 cm) circumference.
P/N SEB12100030-210 (11½"length) 

The official short NASA watchbands used for ASTP/Skylab. 

Fits wrists from 6" to 8½"  (15 to 22 cm) circumference.
 Please see discussion on performance of vintage loop tape.